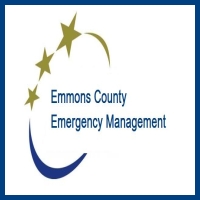 Mary Senger
701-222-6727
The role of the Emergency Manager includes the coordination of services for adequate response to an emergency or potential disaster in Emmons County.
January 28, 2015
Emmons County is updating the Multi-Jurisdictional Multi-Hazard Mitigation Plan. The 2015 update is available below. If you have any recommendations, please feel free to contact us.
2105 Emmons County MHMP (pending FEMA approval)
---
November 3, 2014
We need your help!

Emmons County is currently engaged in a planning process to become less vulnerable to disasters caused by natural and human-caused hazards, and your participation is important to us!

We're updating the Emmons County Multi-Hazard Mitigation Plan. The purpose of the Plan is to identify and assess our community's hazard risks and determine how to minimize those risks.
A survey questionnaire has been developed to provide an opportunity for you to share your opinions and participate in our mitigation planning process. The information you provide will help us better understand your hazard concerns and can lead to mitigation activities that should help lessen the impact of future hazard events.
Please help us by completing the survey below by December 10, 2014.
Forward any comments to:
Mary Senger

Emergency Manager

701-222-6727
---
Winter Weather Awareness
Preparedness and Precautions
An extensive document providing information about winter weather to include: Taking Steps, Before a Storm, Prepare Your Home for Winter Weather, Prepare Your Car for Winter Weather, Winter Weather Checklists, During a Storm, Indoor Safety, Outdoor Safety, Stay Safe and Healthy, Hypothermia, and Frostbite.
Winter Storm Response
Power Outage
Why talk about winter weather?

Each year, dozens of Americans die due to exposure to cold. Add to that number, vehicle accidents and fatalities, fires due to dangerous use of heaters and other winter weather fatalities and you have a significant threat.
Threats, such as hypothermia and frostbite, can lead to loss of fingers and toes or cause permanent kidney, pancreas and liver injury and even death. You must prepare properly to avoid these extreme dangers. You also need to know what to do if you see symptoms of these threats.
A major winter storm can last for several days and be accompanied by high winds, freezing rain or sleet, heavy snowfall and cold temperatures.
People can become trapped at home or in a car, without utilities or other assistance.
Attempting to walk for help in a winter storm can be a deadly decision.
The aftermath of a winter storm can have an impact on a community or region for days, weeks or even months.
Extremely cold temperatures, heavy snow and even flooding can cause hazardous conditions.
On Christmas Eve, 2004, a major blizzard left over 400,000 people in Ohio without power. Half of those remained without power for over a week because of heavy, wet snow accumulations of nearly 2 feet. Then, only two weeks later, an ice storm caused nearly 80% power outage in nine counties. These weather conditions are not unique to Ohio. In 2005, Dickinson received a very heavy snowfall in early October causing trees filled with green leaves to succumb to the weight of the very wet snow. Power outages lasted for several days for many area residents. The loss of so many trees was devastating. Although there were no lives lost, such a storm occurring when the temperatures drop to dangerous levels becomes deadly if not properly prepared.
By planning now with a
Winter Storm Survival Kit
for your home and your car, you can avoid many risks associated with winter.
Do you know what the "weather meteorologist" is talking about?
Watch
Warnings and Advisories
Blizzard
Windchill
Warning and Advisory Type
Click
here
to learn more!
---
Rangeland Fire Index
The rangeland fire index can be found at www.weather.gov/bis under "Fire Weather" or by contacting the Emmons County Sheriff's Department.

If a citizen is ever in doubt of what they can and cannot do, they should contact their Emergency Manager or local Fire Department.

Click here to go to the current map of ND Burn Bans in Effect.
---